Happy (early) Halloween!
First off, here is my ode to Halloween: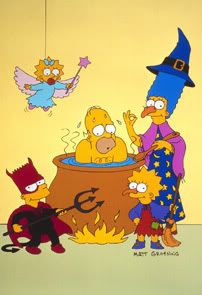 I think it is appropriate because I will probably spend a good chunk of this pre-Halloween weekend watching my Simpsons DVDs (I have seasons 1-5; hope to get 6 for Christmas!) and crocheting. Doesn't sound very exciting, but this is the first weekend in about 3 months that we have absolutely nothing planned. Nada. Zilch. No dinner with friends, no letterboxing, no family events, no visitors. My hubby is soooo excited. It will be nice to spend some quality time at home, just the two of us.
And what will I be crocheting? Well, I have made great progress on the Well-Traveled Bag. I am about half-way done. I hope to finish and felt it this weekend (although I am not sure what I am going to do about the handles. I may end up posting the "finished" bag without handles!). I am using this lovely wool from KnitPicks which I was going to post a pic of, but then decided it would be more exciting to post the finished product. So ya all will have to wait a day or two! I also picked up some rust, tan, cream, and dark brown RH to start a block afghan for our library. No progress to report there and everybody know what RH looks like, so no pics! :-)
The other exciting (well, to me) thing that I will likely be doing this weekend is planning our first-anniversary trip. Our anniversary is in Feb. and we have some very dear friends who live in Ireland. So we are probably going to visit them. I am soooo excited. I have visited Ireland several times, but have spent most of my time in Dublin. So this trip will focus more on the rest of the country. I am going to pull my Ireland tour books and maps out of storage and start planning this weekend! (Cuz I am a bit obsessive and like planning trips several months in advance!)