I can balance a ball on my nose, too


Yup, that about sums up how I have been feeling this last week. The first and third images are all but gone, but I still have a booming, ringing cough that can be heard at least 12 miles away. My family affectionately calls it "the seal bark." I call it evil.

Anywho, so that is my main reason for the complete lack of posting and commenting. Also, because of images one, two, and three, I have been really sluggish and haven't really crocheted anything worth looking at! So here are a few of my half-started WIPS (in a very blurry picture. Oops!) :


From R-L. One half-finished sock. Two and a half squares to my block afghan. The first three rounds of a granny square (possibly for a swap…), and some thread to try out snowflakes with. Have yet to do that last one, though!

Also, thanks to everyone for their very helpful suggestions on my pending book buying spree! I will let you know as soon as I get my greedy little mitts on the books! And, thanks for the kind words on my blog's new look. I agree with Dawn; the scrolling bars were AWFUL! Much better now.

Finally, though I was too tired and cranky to crochet, I did finish one of my Christmas books: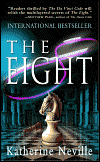 It was a fun book. It reminded me of The Name of the Rose, The Codex, or The Da Vinci Code… that nice subgenre of "history/literature mystery." The writing was a bit clunky at times (and a little un-PC; it was written in the 80s and some of the descriptions of Arabs were a little cringe-enducing), but overall it was a fast-paced mystery with a good "kicker" of an ending.

Well peeps, my warm spot on the couch is calling me. Or is that my cough, echoing throughout the house…? :-)